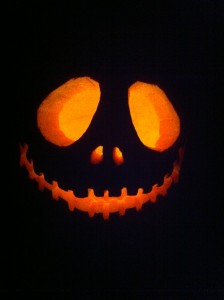 Halloween means beasties. But let's not concern ourselves with the usual fare like lycans, vampires and zombies, let's dig deep  and work with less commonly used monsters for our stories this month.
Here's a few ideas, or go and research something that tickles your fancy.
Hippocamps – half horse, half seaserpent of Grecian legend
Strix – vampiric owls of Grecian legend
Cockatrice – winged cockerels with serpentine tails
Garuda – half man, half bird of prey with golden body and red wings from Indian myth
Tengu – beaked birdmen of Japanese folklore
Amphisbaena – two headed serpent of Grecian legend
Tupilak – vengeful living effigies created by Inuit shamans from human or animal body parts
Qilin – China's version of a unicorn
Kitsune and Tanuki – Foxes and raccoon-dogs (respectively) that could transform into other shapes, particularly humans
Baku – a bear's body with an elephant trunk and an ox tail, eats nightmares, from Japanese folklore
Kappa – monkey faced turtles with frog limbs, mischievous, sometimes murderous Japanese imps
Squonk – warty, loose-fitting skin, ugly face, suffers from severe depression, lives in hemlock groves in northern Pennsylvania
Bunyip – usually hairy water monsters of Australian legend
Selkie – seals that shed their skins and become human from Irish, Scottish and Icelandic tales
Ahuuizotl – aztec water dog who drowns people by grabbing them with its tail that ends in a hand
Dybbuk – wandering spirits of Jewish legend who make their homes in a person's mind becoming a 'voice in their head'
Tsukumogami – household objects with a life of their own of Japanese folklore
Korrigans – beautiful maidens who lived in wells and either lured their victim to drowning or sucked away his life succubus style
If none of these strike your fancy check out bestiaries for Pokemon or Final Fantasy monsters. Or heck, build your own and go wild.
Don't forget to comment or link to the work in the comments below.